If you were to look at most of the pitches for the 2018 Kia Stinger, they'd point out its athletic performance and sportiness on the road. One thing that's often not pointed out? The luxurious quality of its interior.
Most recently, however, the vehicle critics at Wards turned a bit of the spotlight toward the Stinger's insides. Citing its high-quality, they awarded it a spot on their list of the 10 Best Interiors for 2018.
"After we tallied the scores, the Stinger GT took its spot on our list with no debate," said Christie Schewinsberg, a senior editor with WardsAuto. "Its interior is both elegant and athletic thanks to its high-quality leather and soft-touch materials and a just-right mix of black and red on our test car, accented by real aluminum trim. Our test car also quickly paired our smartphones, had easy-to-understand touchscreen menus, comfortable seats and good fit-and-finish."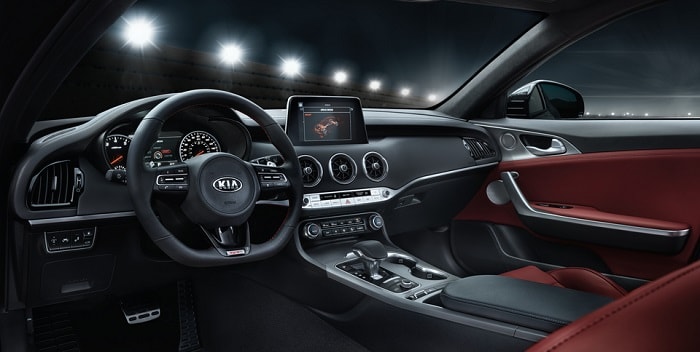 >
This is the second piece of recognition the Stinger has received from Wards in 2018, the first being a spot on its 10 Best Engines list. While it should serve as no surprise that its 3.3-liter twin-turbocharged V6 would land it on that list, it's also not hard to see why its interior credentials would earn the praise of drivers and critics alike. With an attractive design scheme and a bevy of top-quality materials, the Stinger offers comfort and style in abundance. This comes alongside a healthy dose of technology features that further enhance the experience of everyone riding inside.
If you'd like to know more about everything the Stinger has to offer, get in touch with the sales team at Kia on the Boulevard. Our location in Philadelphia, PA serves customers in Levittown, Cherry Hill, Camden, and more. Don't hesitate to drop us a line or get in touch today. We know there's something in our new Kia inventory you'll love.